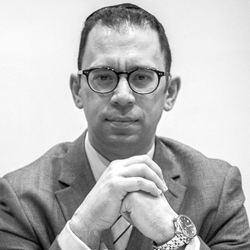 HISTORY
The practice, originally set up by Arnold's late father, Justin R Aaron in the early 1970s, (originally Hambro Life, Allied Dunbar and the Zurich Advice Network) provides for a backdrop of professionalism and reputable financial advice spanning over two generations, for almost 50 years.
Arnold graduated from University with Honours in 1998 and set up practice as a Financial Advisor alongside his father who had built up a successful business over 30 years. Having established himself with a strong entrepreneurial spirit, in Jan 2001 on his father's retirement, he bought the practice from the Zurich Financial Services, the original parent of Openwork.
In 2005, Arnold became a founding Member of Openwork LLP, when Zurich Financial Services withdrew from the retail financial advice market in the UK.
SEIZING THE OPPORTUNITY FOR CLIENTS AND THEIR FAMILIES
With an expanding and mature client bank, Arnold quickly spotted a void in the Inheritance Tax planning space. Traditionally perceived as a complex area which many have steered away from, Arnold boldly embraced the tax planning opportunities available through the use of insurance wrapper trusts and tax planning investments only available through specialist Financial Advisors. Using his unique style and flare, Arnold is able to apply these products and unlock their tax planning potential particularly in more complex estates, achieving inheritance tax savings that a family may otherwise have had to incur.
REPUTATION
Over the years, the practice has grown in reputation and Arnold is renowned for his technical knowledge and creativity allowing clients and their other professional advisors to appreciate his considerable experience, be it straight-forward or more complex situations.
PERSONAL
Outside of running his practice, in addition to volunteer work in his local community, Arnold's interests are wide and varied, ranging from being a Private Pilot for nearly 20 years, to cycling and photography, not to mention study of the Babylonian Talmud on one of his 3 youtube channels. In the summer months, Arnold has been known to cycle all the way to Heathrow Airport and back (a round trip of some 44 miles) armed with his Canon and pro zoom lens, just so he can showcase his photos on airliners.net and jetphotos.com - that's cycling, photography and aviation all rolled into one! Arnold is married with 4 boys, all of whom keep him athletic!